Now, I'm not talking about dresses that are works of art, I'm talking about art that depicts dresses.
I'm looking for an idea for a project I'm participating in, and I got a little obsessed with the idea of dresses yesterday. A couple of things have led me to this: dress-wearing is certainly not one of them. I can't even remember the last dress I actually bought. Oops. That's not true: I htink it was the bridesmaid dress for my sister's wedding (5 years ago). All of my other dresses are on the order of 9-11 years old. Yikes.
I just went looking to see if I had any pictures of the dress. Or the dress itself — I think it must be at my Mom's house. Oddly enough, I had completely forgotten what color it was! You can't see a whole lot of what the dress actually looks like, but you sure can see my lily white arms! I was working on my matron of honor speech. The glass next to me were NOT all mine.
So, that was a complete digression from what I intended to talk about.
Back to dresses and artwork.  All of the photographs link directly the website on which I found them.
One of my favorite daily blog visits is this site: The Daily Dress (I've blogged about it before). I am in love with Liz Tran's work — she uses Japanese paper, beeswax, along with acryclics, ink, and graphite on a plywood panel to create these dresses.
This one is called Geena (all of her dresses have women's names).
As I've said before, I keep thinking I've seen my favorite and then she posts another dress. I just wish I could afford a stack of them. One of these days I'll see one that I just can't live without and then I'll splurge.
The August/September 2007 issue of Quilting Arts Magazine featured some quilts by an artist named Kris Etsenger. She has actually made several quilts on which she has appliquéd full-sized dresses. Gorgeous.
I spent a lot of time yesterday afternoon wandering around looking at paper doll sites. I was hoping to find free public domain paper dolls (and dresses) but didn't find exactly what I was looking for. My favorite site is http://www.paperdolls.com — the coolest page is the Dress the Dolls page — you pick a doll you want to play with and then you can click on the different outfits to "try" them on.
Here is Amy March (from Little Women):
The detail of the dresses for these paper dolls is just exquisite.
Somehow I also ended up at the Metropolitan Museum of Art's website looking at highlights from The Costume Institute. You can zoom right in on the dresses and get a very close look. One of the pieces that I was looking at was this one by Worth: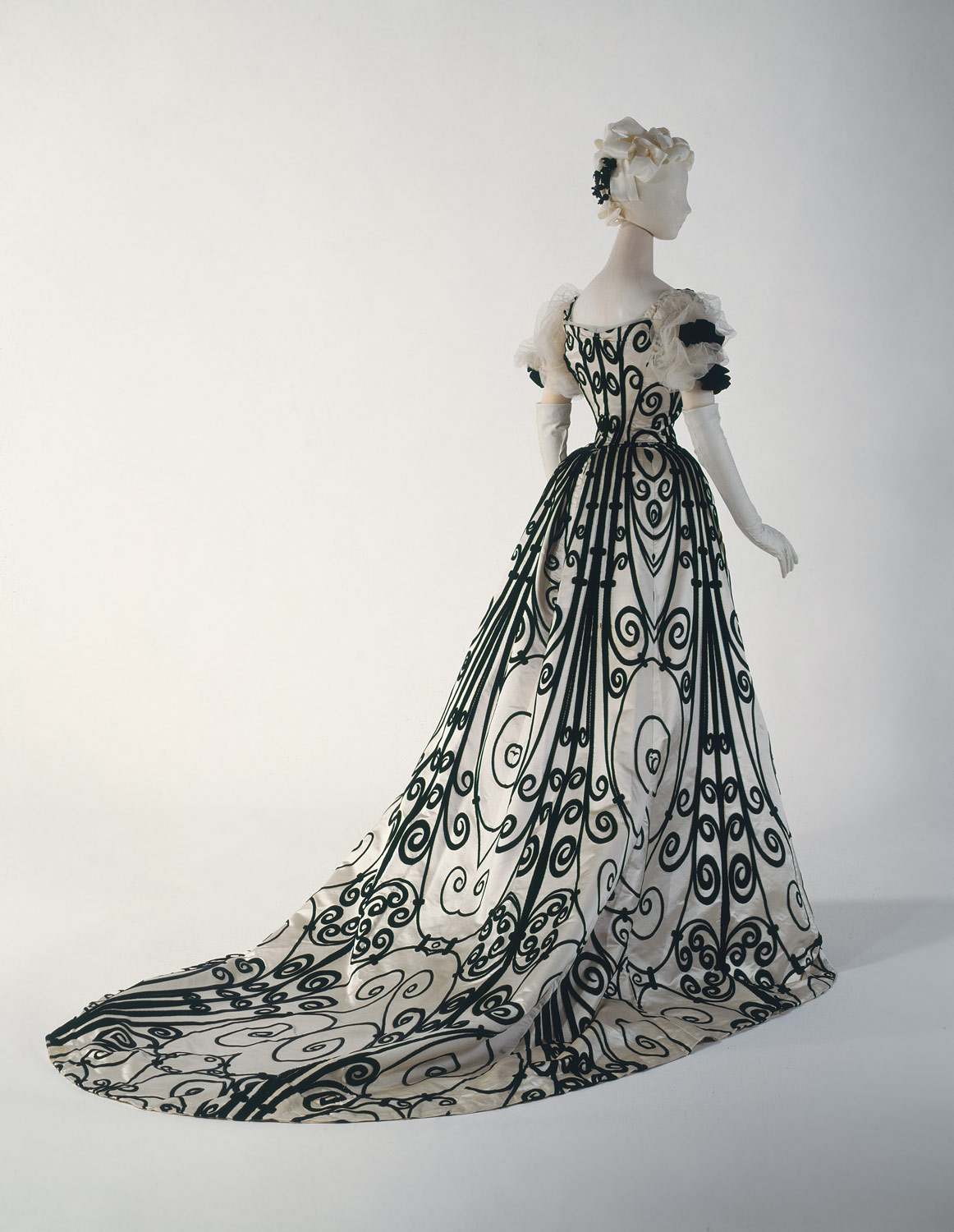 Which has been used as the subject of paintings by Carol Sutton:
Gorgeous!
(The Met's website has a really cooline Timeline Of Art History that you can explore.  I can see losing a lot of time clicking around from place to plcae and time to time on their site.  The photo links to the Timeline, and you can explore it from there).
I'm not sure where I'm going with all of this — but I thought I'd least share some of what I did yesterday since I wasted spent so much time researching.
Drawing dresses wasn't something I ever did too much of when I was little — I didn't think I could draw!  I did spend a little bit of time last night sketching (mostly copying dresses that Liz Tran had created).  I won't show those since they are truly copied, but if I come up with some of my own I might get brave and share.
For now, though, I'd better get some quilting done!
Have a great Tuesday!
Suzanne